As early as the Middle Ages, wine growers, as well as other professional trades, grouped together to form BROTHERHOODS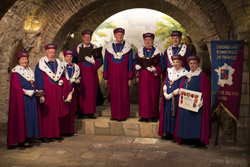 The Cupbearer Council of France is the heir to the traditions of those brotherhoods.
Today, linked with a specific production zone (local soil)
or controlled
controlled appelation
, brotherhoods, called
bacchic
or vinous, brought together professionals, as well as amateurs willing to defend the fame and the uniqueness of wine produce.
They can be identified through their costumes, their insignia and their Induction ceremony rituals which constitutes references to the past history and epicurean traditions.
Further to their economic function, they establish themselves as keepers of the traditions and heritage as well of know-how, in their desire to develop knowledge as well as celebrate, joyfully and with conviviality the quality of wine.